Owning your own small house is what young people are wishing for, but with a small area enough for 1-2 people there can meet all the needs of users.
The interior design of the small 15m2 house makes everyone wish
Located in the center of District 9 of Paris, the attic apartment is only 15 square meters, making everyone admire and admire by its reasonable layout and extremely smart.
To have a comfortable living space on an area of ​​only 15m2, not square, is a big challenge for any designer. However, young female architect Rebecca Benichou of Batiik Studio architecture company has easily turned a small, narrow space into a beautiful home, a place worth living that many people dream of.
Although the space is small, all living bridges are fully met. Each small corner of the apartment is calculated and designed very reasonably by the designer in combination with a versatile interior that makes a small space open beyond imagination.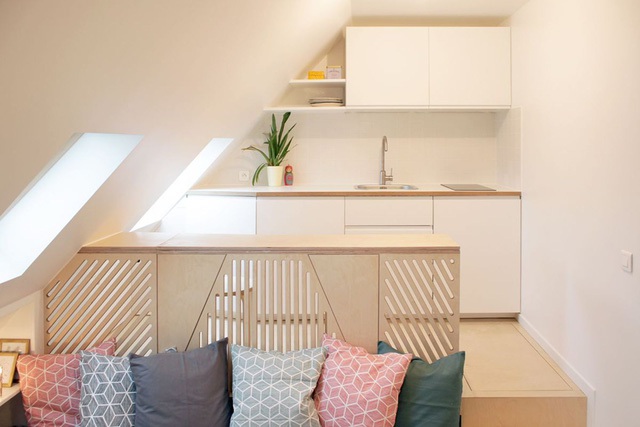 Let's see the ideal living space in the apartment only 15m2.
Source: Collector
With an area of ​​only 15 square meters, young female architect Rebecca Benichou has turned this place into a living space that many people dream of. The first plus point to mention in this house is the use of integrated furniture in the same space. This lovely bed can be reduced when needed, turning this place into an extremely spacious and comfortable living room. Just a little push of the bed has completely disappeared and replaced by a bright living area with glass windows open to the ceiling. When in need of a spacious dining corner, the homeowner can easily "stash" the entire bedroom space, the living room right below the floor of the kitchen with a light push.
Entire house from furniture to paint colors of the walls, even the floor carries a light cream color that space becomes more open wide area villa c
The kitchen area is small, but it is arranged quite neatly and handy with the entire system of closed cabinets. To help keep the house square, the designer has chosen to put a system of cabinets running along the wall to satisfy the homeowner's storage space.
The square wooden cabinet for clothes and toiletries is designed high to the ceiling and makes the ideal storage space but also makes the ceiling feel higher.
Opposite the other side is a beautiful small working corner and the bathroom is designed with dark tones to contrast as a highlight for the whole house.
Despite the small area, the house is always full of sunlight thanks to many glass windows installed on the roof of the working corner, kitchen, living room.
Although the bathroom is small, it is arranged quite neatly and tidy. The circular mirror in the center of the bathroom has both a decorative effect and makes the space in this small corner wider.
The bathroom is also equipped with a very clean and convenient storage system.
Source: Collector
Hotline: 02873 09 29 79
Messenger Gil Design: https://www.messenger.com/t/gildesignvietnam
Link Website: https://gildesign.vn/ & https://gilspace.com/
Link Instagram: https://www.instagram.com/gildesign.vn/
Link Fanpage: https://www.facebook.com/gildesignvietnam
Link Youtube: https://www.youtube.com/channel/UCSRbqbUdsstHm7gQhJUYX3A
Zalo: 086 217 7068 – Gil Design
---
News Related
---